Fripp Warehousing is a full-service warehouse that offers complimentary custom storage solutions.
Fripp Warehousing offers a 100,000 square foot facility with full-service amenities.
The 10 loading bays are equipped with hydraulic dock levellers to make it easy for self-loading and unloading.
Our secured facility with 24/7 client access allows ultimate flexibility for your schedule.
Fripp Warehousing, a Canadian warehouse, is located in Kelowna, British Columbia, which is the largest urban center between Calgary and Vancouver. We are minutes away from the Kelowna city center, Kelowna International Airport (YLW), and major highways.
---
Fripp Warehousing Storage Options
Value Added Warehouse Services
Fripp Warehousing is proud to provide customized warehouse solutions based on our customer's needs. These solutions include:
Full-service shipping and receiving, with loading and unloading at per pallet rate.
Distribution services – pallet and transport.
Cross-docking.
Stuffing and de-stuffing of containers.
Kitting, repackaging and distribution services for specific order fulfillment.
Pick-and-Pack for B2B and B2C.
Custom palletization.
---
Fripp Warehousing has been providing customer-focused warehouse and storage solutions in Kelowna since 1996.
Our clean, secure, and well-maintained warehouse facilities, as well as our hard-earned reputation for exceptional service, will give you peace of mind that your goods are in safe hands.
Indoor storage solutions are vital for businesses that require a controlled environment and top-notch amenities for their goods. With our state-of-the-art facility and client-centric approach, Fripp Warehousing ensures that your items are not only stored safely but are also easily accessible whenever you need them. To get a broader perspective on our comprehensive warehousing capabilities, including our premier storage Kelowna services, we encourage you to explore our main page and see the full spectrum of what we offer in Kelowna, BC.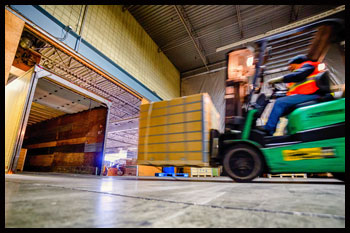 Options d'entreposage
Nous offrons un service complet d'entreposage en plus d'une gamme complète de solutions complémentaire d'espace de rangement.
Entreposage Fripp vous offre un service complet d'aménagements sur une surface de 100,000 pieds carrés, incluant le chargement et déchargement facile avec 10 quai de chargement équipés de niveleurs hydraulique.
Les clients ont accès à notre site sécurisé 24h sur 24h, 7 jours sur 7, vous permettant d'organiser le transport de vos biens au moment qui convient le mieux à votre entreprise.
Entreposage Fripp est situé à Kelowna, en Colombie-Britanique, le plus grand centre urbain entre Calgary et Vancouver, nous sommes à quelques minutes du centre-ville, des autoroutes majeures, et de l'aéroport.
---
Options d'entreposage
Services à valeur ajoutée
Entreposage Fripp est fier de fournir des solutions d'entreposage personnalisées basées sur les besoins de nos clients. Ces solutions comprennent:
Expédition et réception de marchandise, avec chargement et déchargement (au taux par palette).
Service de distribution|transport de palettes.
Chargement et déchargements de conteneurs.
Assemblage de kits, remballage et distribution.
Pick-and-Pack (prélèvement et emballage).
---
Nous fournissons un service d'entreposage basé solidement sur la satisfaction complète de notre clientèle depuis 1996.
Avec notre site propre, sécurisé et bien maintenu combiné à notre réputation bien-méritée d'un service hors-pair, vous pouvez bénéficier de la tranquillité d'esprit que votre marchandise est entre bonnes mains.
href="https://www.frippwarehousing.com/about-fripp-warehousing/">EN SAVOIR PLUS SUR NOTRE EQUIPE
Top Rated Warehouse in British Columbia, Canada
Fripp Warehousing is located at 1005 Ethel St., Kelowna, British Columbia, V1Y 2W3, CA. From Kelowna International Airport (YLW) head west on Airport Way toward BC-97 N and follow Hwy 97 N/Okanagan Hwy to Spall Rd. Then, turn left onto Hwy 97 N/Okanagan Hwy/BC-97 S and continue straight onto Hwy 97 N/Okanagan Hwy/BC-97 S. After that, take Clement Ave to Ethel St and turn right onto Spall Rd. Afterward, turn left onto Clement Ave and turn right onto Gordon Dr. Finally, turn left onto Weddell Pl and turn right onto Ethel St. Fripp Warehousing will be on the right.
We are open from Monday to Sunday 7:30 AM – 5 PM.
For additional questions, you can call us at (250) 860-2511 or find us at Nicelocal.